Fees
Fees for 2020-2021
Please find attached the schedule of school fees for this academic year.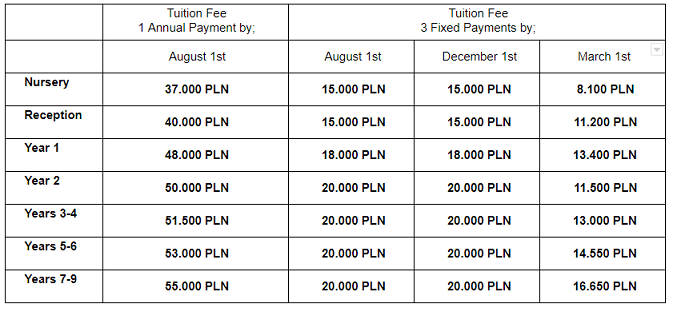 Diagnostic Fee - 3.000 PLN
This is a one time fee and is non-refundable.
Trial & Assessment Fee - 1.000 PLN
BSW may request a child to attend a Trial and Assessment placement at school. This fee will be deducted from the diagnostic fee if the applicant is successful and offered a place at BSW.
Canteen Fees - 4.500PLN
The annual payment for meals per child is 4.500 PLN. This includes morning snack, lunch and afternoon snack. The fee can also be made in 3 fixed payments by 1st August / 1st December / 1st March.
Payment 1 – 1.800 PLN
Payment 2 – 1.800 PLN
Payment 3 – 900 PLN
Breakfast Service (available 7.30am - 8.10am daily)
Annual Payment - 1.000 PLN
3 Fixed payments by 1st August / 1st December / 1st March
Payment 1 – 400 PLN
Payment 2 – 400 PLN
Payment 3 – 400 PLN
After School Care including 5pm Evening Snack (available 4pm – 6pm daily)
Annual Payment - 1.500 PLN
3 Fixed payments by 1st August / 1st December / 1st March
Payment 1 – 600 PLN
Payment 2 – 600 PLN
Payment 3 – 600 PLN
Holiday Care Programme
Half Day (8am-1pm) - 100 PLN
Full Day (8am-4pm) - 150 PLN
The Full Day cost includes canteen service, and some activities organised over the holiday breaks.
Additional After School Clubs (per term per club) - 250 PLN
BSW offers a selection of Language/ Sport/technical/creative clubs that will be invoiced termly.
School Trips/Events
Parents will be informed of individual trips and events and the additional costs. Parents are required to make payment and confirm participation prior to the trip/event.
Transportation (school bus) per student per month from - 500 PLN
This is a monthly rate covering a morning and afternoon bus service within a 6 km radius. For those who live above 6km a higher rate will apply.
Uniform
Wearing a School uniform is compulsory for children in Reception to Year 9. For price information contact info@bswilanow.org
Reduction in Tuition Fees for siblings
Parents who have more than one child at the school will receive a 5% tuition fee reduction on the second child. Parents who have more than two children in school are entitled to a reduction of 15% of the appropriate tuition fee for the third child. There is a 50% reduction for the fourth child's tuition fee.
Timely payment discount
The termly payment plan includes a discount of 3% for on-time payments. The discount only applies if the payment is deposited into the school account by the due date. If the payment is received after the scheduled date, then the discount does not apply; additional processing surcharges and interest fees may apply.
Mid Year Entry
For Tuition Contracts concluded during the academic year, the termly (3 payments) tuition fee is divided into 10 months and is calculated proportionally to the number of the remaining months of study, regardless of the start date in a given month.
Requesting an Invoice
Contact payments@bswilanow.org and give your child's name and year group, your canteen programme selection, bus transport information (if applicable), the entire name of the person or company the invoice should be issued to, and how you would like it to appear on bank statements.



A Polish version of the fee schedule document is available. Please contact admissions@bswilanow.org